The Prem Journey | Austprem Ink | Resources and Links
Preterm Labour (PTL)
General Information
Preterm Labour is labour that occurs before 37 weeks gestation and can result in progressive dilatation of the cervix. Preterm Labour can be difficult for the mother to recognise, but symptoms such as contractions, often felt as menstrual like cramps (especially of concern if they don't go away after you lie down), pressure in the pelvis and/or low dull backache need to be investigated. Always contact your doctor or healthcare provider if you are concerned about what you are feeling. Bed rest can help, as can some drugs. Usually the aim is to prolong the pregnancy until the baby is closer to term, but this is not always possible as the baby may become distressed and need to be delivered, or the contractions may not respond to treatment and the baby will be born.
Internet Links
American Family Physician - Preterm Labor
American Family Physician - Preterm Labor: Prevention and Management

This information is intended as general background information only. Please check with your doctor or other health care provider for further and more specific information on how any condition affects you and/or your baby's health and before acting on any information presented here.
Please also read our disclaimer.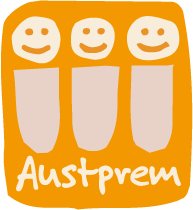 © Austprem Inc. All rights reserved
website: www.austprem.org.au
email: austprem@austprem.org.au
ABN 67 731 996 316