The Prem Journey | Austprem Ink | Resources and Links
Multiple Birth
General Information
Being pregnant with more than one baby increases the risk of premature birth. Approximately half of twins, and nearly all higher order multiples are born preterm. Many of the other possible causes of premature birth are just as likely, if not more likely, in a multiple pregnancy. TTTS can only occur in multiple pregnancies. Sometimes bed rest is suggested to help reduce the chances of premature birth, although this is not always needed or necessary.
Internet Links
Support Groups
AMBA (Australian Multiple Birth Association - including links to the State groups)
Personal Stories
Mitchell and Harrison's Story
Jaiden and Hannah's Story
Mitchell and Antony's Story
Joshua and Caleb's Story
This information is intended as general background information only. Please check with your doctor or other health care provider for further and more specific information on how any condition affects you and/or your baby's health and before acting on any information presented here.
Please also read our disclaimer.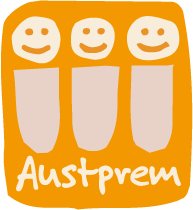 © Austprem Inc. All rights reserved
website: www.austprem.org.au
email: austprem@austprem.org.au
ABN 67 731 996 316